One of the first steps in home painting is to find a professional painting contractor who will be able to advise you on the pros and cons of a painting project. Before you choose a painting contractor, ask for references and testimonials from previous clients. Then, do some research and find painting companies that offer affordable home improvement projects using quality products and supplies. These can save you time, effort, and money.
Basic Tips
Home painting can be challenging. It's important to pay attention to details, like choosing the right colour of paint, roller quality, and painting position. You will also want to choose a basic primer before you paint because this will help keep your walls clean and free of dust. Once you've prepped your home, you can move on to other steps. These include choosing the size of the areas you are painting, preparing your tools, and preparing your home for the paint job.
When choosing the main colour for your project, it's often a good idea to pick something that complements the style of your home. It is the main colour of your house, so it should be visually appealing and easy to blend into your surroundings. You can get an idea of paint colour by visiting nearby homes or businesses. In addition to the main colour, you should choose accent colours that complement your main colour. Sometimes the best way to figure out your best accent colour is to match your appliances, window treatments, flooring, landscaping, and cabinets. These will visually tie your project together and help you decide on the right tone for your house.
Hiring a Crew
If you're repainting a large area, you may want to hire a home painter instead of tackling the project yourself. Hiring a professional crew to paint a large area can be expensive, especially if you need several coats. If you do decide to hire a professional crew to repaint your home, be sure to pick a company that offers reasonable prices. You also want to ask if they provide services like repairing cracked paint or moulding. Some companies may offer discounts for these types of work.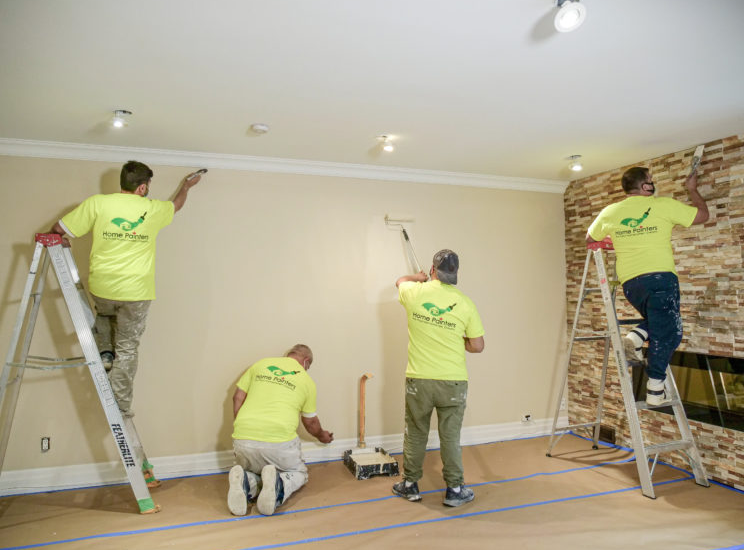 One big mistake that homeowners make when painting home walls is to hire someone who doesn't know how to apply the paint correctly. If you have experience applying this type of paint, then chances are you will know what to look for and be able to make the painting job go much more smoothly. Some many books and websites can help you learn the proper techniques for painting any area of your home. Don't forget to ask a professional about any other tricks of the trade, like ceiling repairs and window repairs, so that you get the best deal when painting a home.
Other Important Things
Other home painting ideas include using stencils and hand tape for smaller jobs around the house. Repainting small items, like door handles and cabinet pulls, with stencils and hand tape can save you a lot of time and money. Another great way to save time is to repaint your doors and windows in one day. This way, you can be sure that the job will be done right the first time, and you'll avoid spending extra time or money on repainting when your home is already painted.
When painting the home, it is a good idea to keep some extra paint around for touch-ups in case something goes wrong during the actual painting job. It's also a good idea to purchase a few key pieces of equipment, like rags and brushes, to keep handy. You can purchase these pieces at a local hardware store or with some creative shopping around. Another very important tool to have is a step ladder. It's always a good idea to practice on some pieces of furniture or other things in your home before tackling your actual painting project.
Painting a home can be a big project, especially if you're just starting. Don't be afraid to call in professionals to help you. They can help make the experience go smoothly and they will save you time and hassle from having to take care of all of the painters in your home painting project. If you decide to do it on your own, remember to allow time for practising on your painting project. You don't want to rush through the process.